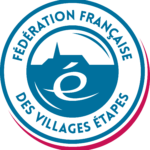 On the road to your holiday or during your trip in the Charente, the town of La Rochefoucauld-en-Angoumois, located on the edge of the N141 and close to Angoulême, is an unmissable stopover. Labelled a "Village Etape" since 2013 and
selected as one of the 100 most beautiful detours in France in 2021, the town offers
an exceptional built heritage, a dynamic town centre, rich in small shops and cultural facilities.
The nuggets of the city
La Rochefoucauld-en-Angoumois is known for its castle, proudly set on the rock overlooking the Tardoire. Its architectural quality, particularly from the Renaissance period, has earned it the nickname "Pearl of the Angoumois". Born at the beginning of the 14th century, the town has the particularity of possessing Gothic style buildings: the Carmelite convent and the collegiate church of Notre-Dame de l'Assomption, both of which are protected as historical monuments.
Discover the city
La Rochefoucauld-en-Angoumois can be discovered in different ways, the choice is yours! An heritage signpost allows you to wander freely around the town centre and discover all the historical and architectural sights. Terra Aventura geocaching takes you on a story full of twists and turns. Equipped with your mobile camera, you discover the city through the puzzles proposed by the application! An adventure to be experienced as a family, where everyone is an actor! New, a connected visit: download the free application KWYS (Know What You See) and let yourself be guided! 20 sites are listed.
Culture and heritage
In the town centre, cultural life is in full swing: several cultural facilities offers you a rich and varied program throughout the year. And a particularity for all these places is that they occupy heritage sites. The media library, its exhibition room and the cinema bring the old 19th century grain market to life. Since 2010, "Les CARMES" showrooms and exhibition halls have brought the former convent church back to life.
Finally, the magnificent house of Jean Hérault de Gourville, an eminent figure from La Rochefoucauld, is about to open its doors to welcome "Le Patio de La Roche", a new multicultural place.