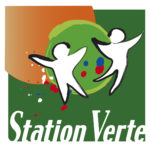 Located close to the Périgord and Limousin, the small town of Montbron stands on a rocky outcrop at an altitude of about 140 meters, surrounded by wooded hills and cool valleys. Montbron is appreciated for its environment. Far away from the main roads, the small town play the card of tranquillity and "savoir-vivre".
Curiosities
In the heart of the Tardoire valley, Montbron is characterised by its wealth of sites occupied during Paleolithic times. The river is also the mirror of rustic private manors and 16th century mills which have come back to life in recent years.
To discover: the Barbacane ramp, the old castle, the Saint-Maurice church, the Notre-Dame du Bon Secours chapel (former chapel of the leprosarium, now disappeared), the town hall (former house of Doctor Léon Rebière-Laborde)...
A village open to arts and crafts
For several years now, Montbron has been revitalising its town centre and has been gradually welcoming art craftsmen. The ceramist Jean-Pierre Petit offers his fantastic and animal sculptures in enamelled stoneware. Laure Simonnet, a jewellery designer, opened her workshop-boutique Laörée in 2019. Delphine Dauchel, leatherworker, has also set up her workshop-boutique No'Mad Custom Leather in the heart of the village. Rebecca Larapidie has created Abak'Art, with the particularity of working with leather from the family farm. Gaëlle Bonjean (M'Zel Soleil), Laure  Durousseau-Dugonthier (Road Fripes) and Marion Leroy, alias Les Drôles de Dames, offer "zero waste" clothing designs.
And since 2012, the famous and prestigious Hermès brand has been based in Montbron. The Tardoire leather goods company produces luxury bags, wallets and card holders.