During your cycling trip, take a break with us!
Two cycle tourism routes pass through La Rochefoucauld Porte du Périgord: the Flow Vélo linking Thiviers in the Dordogne to the island of Aix in Charente-Maritime, and the Scandibérique, the French part of EuroVélo 3, linking Trondheim in Norway to Compostela in Spain.
These two routes connect in Marthon, using the Coulée d'Oc walking and cycling path.
La Flow Vélo, from the Périgord to the Atlantic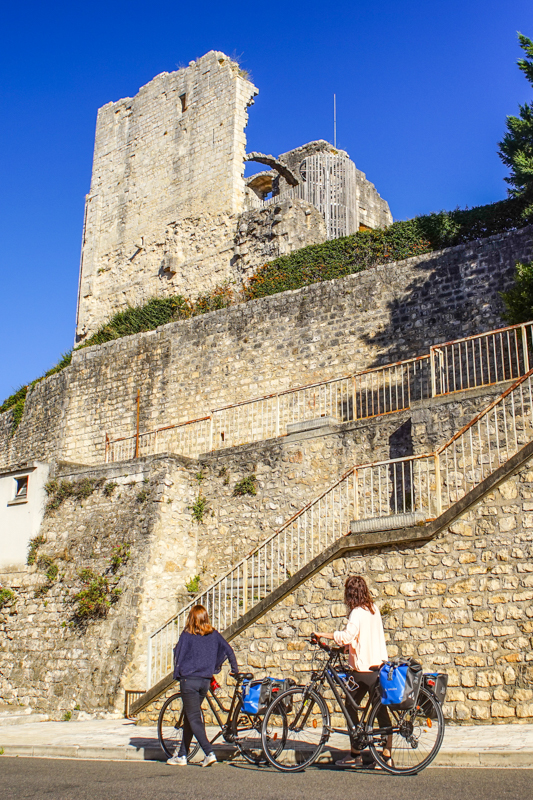 The Flow Vélo, between the Atlantic, Charentes and Périgord, is a 290 kilometre long national cycle route, full of countryside and greenery. It is a very accessible route and therefore suitable for family cycling. Starting from the Parc Naturel Régional du Périgord Limousin, the Flow Vélo goes up the Bandiat valley, following the Coulée d'Oc, the route of the former railway line Le Quéroy – Saint Pardoux la Rivière.
On the route or nearby, take the opportunity to take a few breaks for relaxation or discovery. Let yourself be seduced by the village of Feuillade, its charming church classified as a historical monument and its leisure and picnic area. A few kilometres further on, Marthon, a stopover village on the cycle route, is a must for heritage lovers. From the medieval keep, enjoy a panoramic view of the surrounding countryside.
In Saint-Germain de Montbron, experience "Jeux me régale", a restaurant set up in the old school, where you can eat while having fun! The last town on your journey along the greenway, Chazelles, is a place where traditions and know-how are alive and well, with its water mill, now a craft brewery, and its incredible collection of old Jean-Paul Bousquet tools.
Camping, bed and breakfasts and gîtes are located in the immediate vicinity of the route. Some of the accommodation has the "Accueil Vélo" label.
La Scandibérique, Trondheim Paris Compostelle
The Eurovélo 3, known as the pilgrims' route, retraces the famous route to Santiago de Compostela over a distance of 5122 kilometres. In France, the route is called La Scandibérique. In the Charente, from Confolens, the route follows the first hills of the Massif Central to Montbron and then connects with the Coulée d'Oc from Marthon and reaches Angoulême.