Unexpected meetings for a successful family holiday!
Several local producers open their farms to the public and invite you to get to know their animals better.
Meeting the king of the forest
In Mainzac, on the Brame forest farm, Fanny raises deer in semi-freedom in a 10-hectare wooded enclosure.
Every Tuesday and Thursday in the summer, the stags, hinds and fawns come to eat a few metres away from you. Fanny takes advantage of this mealtime to explain how the farm works. You can choose: on Tuesday, a visit followed by a salty farm snack, on Thursday, a visit followed by a sweet farm snack.
A date with our precious friends the bees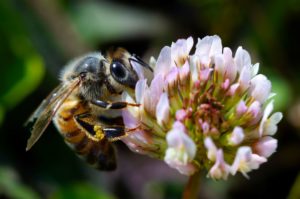 In Feuillade, Franck and Sophie open the doors of their honey house every Monday in July and August.
You will learn all about the life of bees, from the development of a colony to the harvesting of honey. You will see a demonstration of honey extraction and the decanting process.
♥  For children aged 5 to 12, a small quiz is proposed to learn while having fun!
A farm like no other
The Potager des Poissons in Moulins-sur-Tardoire is an aquaponic farm.
But what is an aquaponic farm?
An ancestral method of cultivation brought up to date. The combination of a
vegetable farm and a fish farm to grow vegetables on the one hand and raise fish on
the other.
Jehanne and Benoît, the farmers, invite you to discover this method of cultivation
which is based on an ecosystem where the sturgeon's excrement becomes the
nutrient for the plants which in turn serve as a filter.