Do you like cycling? Then get on your bike or mountain bike and set off on the signposted loops on roads or tracks!
Local loops
Accessible to all, the local loops of the Charente each consist of 3 circuits corresponding to 3 levels of difficulty: family, discovery and exploration. On the circuit of your choice, ride along our small country roads and follow the signs with the little black bikes. The routes focus on picturesque landscapes and heritage points of interest.
⇒ 3 starting points on La Rochefoucauld Porte du Périgord : La Rochefoucauld loop 51, Montbron loop 52 et Marthon loop 53.
⇒ cards available free of charge at the Tourist Office
La Coulée d'Oc, 22 kilometre greenway
Built on the old railway line that linked Angoulême to Nontron, the Coulée d'Oc is a paradise for a family cycling trip. In a rural atmosphere with green hues, the greenway goes up the Bandiat valley, a small peaceful river. It provides a safe and gentle link from the Angoumois region to the Dordogne: a 22-kilometre asphalted route, which is closed to all motorised vehicles. And for the curious and lovers of history and heritage, there are a number of information panels along the greenway.
For cycling but not only! Ideal for a family walk with a pushchair, for wheelchair users and for rollerblading fans! Entry points with car parking and picnic tables at Le Quéroy, Chazelles, St-Germain de Montbron, Marthon and Feuillade.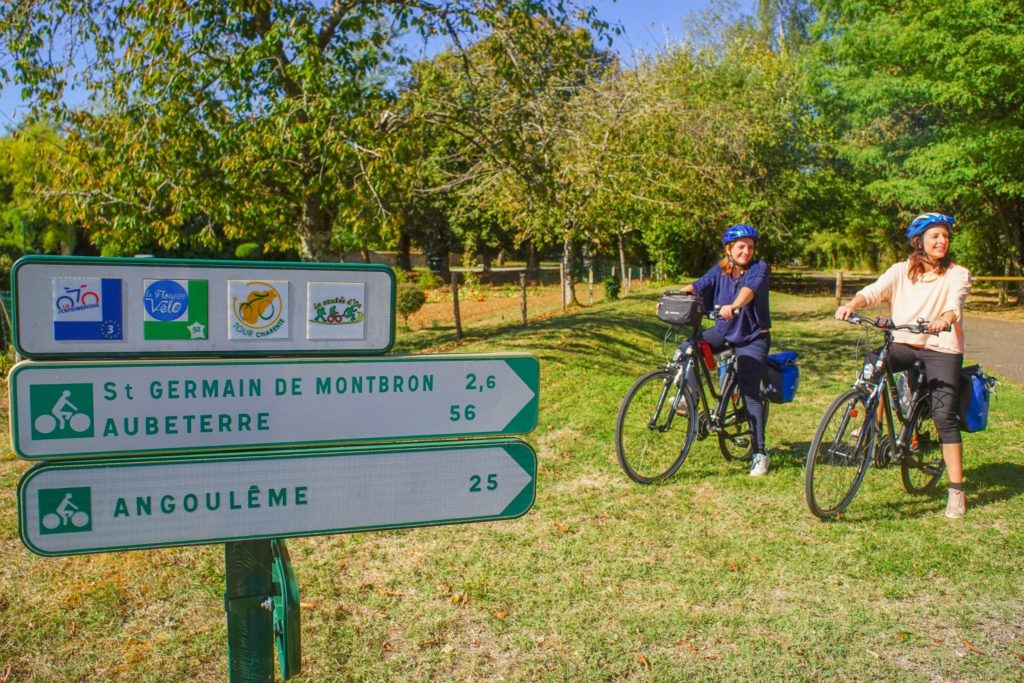 For mountain bikers
The Chambon site in Eymouthiers is a 90-hectare playground, favoured by sports enthusiasts who love wild and authentic nature. The outdoor activities offered by the "Chambon Station", a certified nature sports resort, are to be enjoyed independently. Among them, 12 mountain bike circuits adapted to all levels: from 5.3 km to 53 km, with levels of difficulty ranging from easy to difficult. Le Chambon is also the 0 point of the Tour Charente VTT. This 650 kilometre route, which is fully signposted, uses public roads as close as possible to the boundaries of the Charente department.