"PROFITE LAPIN !"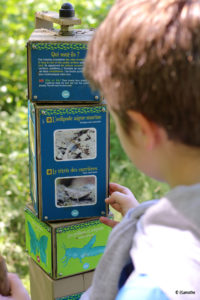 "We turn off our smartphones, make sure our shoelaces are well tied, and off we go for a 2km walk in the middle of the countryside. We take our time, we walk at our own pace and we'll even have the opportunity to experience bio-inspired yoga! Zen, let's be zen!
So as not to go home with your brain empty, an educational booklet is available at the tourist office to help you learn more about the biodiversity of the area. In short, it's a good way to get some fresh air into your lungs, to take in the sights and to come back more knowledgeable!
Lunch break in front of the Moulin de la Pierre, in a place called Rochebertier. Below the car park, the place is shaded, along the Tardoire. Ideal to refresh your feet!
Since we are just across the road, this is an opportunity to visit the Moulin de la Pierre. Mill enthusiasts will be happy to explain the history of this unique mill in France (yes, yes!!) capable of sawing blocks of stone thanks to hydraulic energy.
Speaking of boulders, why not go in search of Zouti, the famous little Poïz of the "Poïz on the bloc' " circuit? As this circuit is well done… the departure of this geocaching course is located behind the mill! Get out your smartphone (yes, yes, you're allowed) and download the terra avantura app. A 5 km circuit with questions about nature, history and the heritage that surrounds you. And, at the end, a gourd (filled with Poïz) to find. The little souvenir of the day to bring back… isn't the adventurer's life beautiful?"
---
PRACTICAL INFORMATION
Duration: 1 day
Cost: great, everything is free!