"C'EST MON PLAISIR !"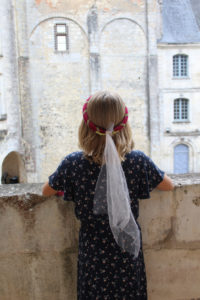 "A half-day to discover the Rupificaldian city*, its castle and its history, while having fun? We say yes!
The adventure begins at the Château de La Rochefoucauld, a jewel of Renaissance
architecture, still owned by the same family for over 1000 years!
Ο Here we are!
We are transported through the different eras that have marked the building, from the
Middle Ages to the present day, and through the details of the architecture and decoration.
Can you spot the following details:
Ο the sculpted faces in the galleries
Ο the family tree
Ο the initials on the front of the castle
Ο the hunting trophies
A short walk in the park of the castle for some souvenir photos and we start to discover the city by having fun with the Terra Aventura course "Zabeth, in the corridors of time". To catch this Poi'z, you'll need to brush up on your history, or you'll end up in the dungeon! With the help of a smartphone, you can wander around deciphering riddles and getting your neurons firing.
We finish with a well-deserved break at the Chocolaterie d'Antan where we discover the workshop and taste some sweets at the foot of the castle.
Ο Visit the chocolate factory and taste the chocolates.
Did you tick all the boxes? Congratulations, you are now true rupificaldians!
*rupificaldian: inhabitant of La Rochefoucauld
---
PRACTICAL INFORMATION
Duration: 1 half day
Cost: 10€/adult, 5€/child (castle entrance)
---
⇒ Château de La Rochefoucauld open every day except Tuesday from 10am to 7pm
⇒ Terra Aventura application to download free of charge on Google Play and Apple Store
⇒ Chocolaterie d'Antan : open every day from 10am to 12.30pm and from 2.30pm to 6.30pm, Sunday from 3pm to 6pm