"C'EST OKAAAAY !"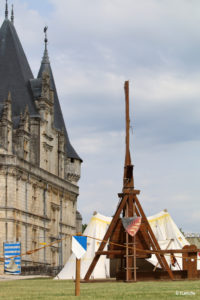 "Hear ye, ladies and knights, plunge into the heart of the Middle Ages for a day (or a weekend), without a potion (you don't have to visit Merlin the magician to go back in time).
Forget the 21st century! We go back to the time of the beggars and learn how to shoot with a bow and arrow, we learn how to throw an axe (without hurting grandma), we admire the falcons that fly over us and the equestrian jousts of the lords, without forgetting the medieval shopping in the village of the craftsmen.
We take a break at the tavern, to quench our thirst and taste some specialities worthy of Robin Wood and his friends, before taking some souvenir photos.
No time to get bored! The artists walk around, the shows and demonstrations follow one another, you learn how to mint coins, to dye fabric in the medieval style, the little knights are knighted by the Lord of La Roche, and you discover the catapults before visiting the witch Bertrude in her cave.
We take the opportunity to visit the Château de La Rochefoucauld, its salons, its libraries, its kitchens, and perhaps even catch a glimpse of the Fairy Melusine. Don't miss the remains of the keep, the oldest construction of the castle!
In the evening, we have a feast with a lively meal. On the programme: pig on a spit!
So, how was this medieval day? Craaazy!"
---
PRACTICAL INFORMATION
Duration: 1 day
Cost: 10€ (Medieval Festival and La Rochefoucauld Castle pass) + cost of medieval meal
---