Another way to discover the richness of nature and heritage: a refreshing kayak ride on the Tardoire.
The Tardoire river
A sub-tributary of the Charente, the Tardoire crosses the territory from east to west. Rising in the Haute-Vienne, it flows through narrow gorges to Montbron and then on to La Rochefoucauld-en-Angoumois, where the soil is limestone and the river begins to lose its water in chasms.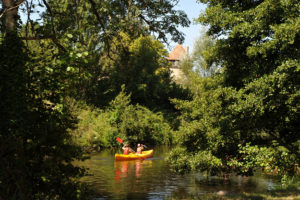 The canoe house in Montbron
Come and relax and admire the magnificent landscapes of the Tardoire! Four courses of 3 to 13.5 kilometres (Chabrot, Menet, Chambon and Ecuras) take you through unspoilt countryside, dotted with private châteaux, beautiful houses and restored mills. Sensations are guaranteed on the many slides of the Menet and Chabrot courses!
For beginners, take part in an introductory session to canoeing with a qualified
instructor, as part of the "Ete Actif" operation.
Go to the canoe house, route de Vouthon in Montbron to book your trip.
⇒ The only requirements are to be able to swim and to wear a life jacket for your safety.